CITIUS MAG Newsletter: World Records Fall in Brussels by Sifan Hassan & Mo Farah
Back from vacation to give you the latest news, commentary and analysis from the wide world of running.
Hello again! I am back in your inbox after a quick two-week break while in Boulder with some friends on a short vacation. Boulder lived up to the hype!
I really appreciate everyone who reached out with recommendations on places to eat, drink and run. If I were to pick favorites: Best restaurant: Pizzeria Locale (this means a lot coming from a New Yorker with obnoxious pizza takes!); Best drinks: Sanitas Brewing Company (Really enjoyed the View From Above IPA); Best running spot: Teller Farms (If you know me then you know that I don't fare well on hills so this flat spot was beautiful and chill. Many thanks to Tinman Track Club for inviting me to #SoftHour).
I finally got to make a pilgrimage out to Magnolia Road. I was too chicken to do the full 15-miles so I just settled for 7.5 miles out from the west side to the east side (considered the easier of the two ways because of the downhills). I vow to tackle the full out-and-back on my next visit. I'm still just training for a mile time trial possibly later this month so I wasn't planning on digging myself in a hole and pushing it too much while at altitude. I pretty much did a bunch of easy running (with strides at the end of runs) over the two and a half weeks since my body was not ready to tackle any sort of big boy workout. It must have worked because I eeked out an unofficial 800m personal best while making my way back east with a quick stop in Chicago. We're trending upward!
(Got to catch up with recent CITIUS MAG podcast guest and Bowerman Track Club's Elise Cranny while in Boulder)
Over the next couple of weeks, I'll be releasing a few podcast episodes that I've recorded with a few people who were in town. Enough about my trip! Let's get to the latest news in the running world.
---
Hour World Records Fall In Brussels
Just moments ago, the Brussels Diamond League wrapped up and we saw two world records in the one-hour run. A majority of the women's race was not broadcast live in the United States but once it was available for the final 10 minutes on NBC Sports Gold, we were locked into a duel between 10,000 meter world champion Sifan Hassan and marathon world record holder Brigid Kosgei. The world record distance to watch was 18.517 meters set by Ethiopia's Dire Tune in 2008.
It appeared like they were trading laps but once the gun signaled one minute remaining, Hassan's track pedigree could not be matched by Kosgei. Hassan pulled away for the win and was marked at 18,930 meters. For my American friends, that's 11.76 miles at 5:06 pace for 60 minutes. Kosgei took second in 18,904 meters BUT was disqualified for stepping inside the rail with about seven minutes remaining. This was her first-ever track race and that's got to be a bit disappointing after such a hard effort.
Israel's Lonah Shemyai Salpeter (the 2020 Tokyo Marathon champion) also managed to get past the previous world record and ran 18,571 meters.
Mo Farah returned to the track for the first time since 2017 and set a new world record in the one-hour run with 21,330 meters run. Haile Gebrselassie's record of 21,285 meters had stood since 2007.
There was a small portion of the race where doubt crept in from the announcers since the pace lagged but they managed to get back on track soon after. There was a hologram of Gebrselassie on the broadcast that made it easy to track how ahead or behind they were from the record. Farah's training partner, Bashir Abdi of Belgium, took the lead toward the end of the race and snagged the 20,000m world record in 56:20.02 to break Gebrselassie's 56:26:00 record. Farah ended up closing better than Abdi and took the world record.
Other notable results: Jakob Ingebrigtsen won the men's 1,500m in 3:30.69. He'll turn 20 on Sept. 19 and has already run under 3:31 five times in his young career…Kenya's Faith Kipyegon took another stab at the 1,000m world record and fell just short. She ran 2:29.92 for the win. The world record is still 2:28.98 by Russia's Svetlana Masterkova. Kipyegon ran 2:29.15 in Monaco a few weeks ago.
Joshua Cheptegei Isn't Done Breaking World Records
On Thursday morning, the NN Running team announced that Joshua Cheptegei will be attempting to break Kenenisa Bekele's 10,000m world record of 26:17.53 on October 7 at Turia Stadium in Valencia, Spain. He is coming off his 12:35.36 in Monaco and this attempt will be just before he makes his half marathon debut and runs at the World Athletics Half Marathon Championships in Poland (which remain on schedule at the moment).
Bekele's record has stood since 2005 and the closest anyone else has come to that since was maybe Kenya's Micah Kogo and Eritrea's Zersenay Tadese running 26:35.63 and 26:37.25, respectively, in Brussels in Aug. 2006. In 2008, Bekele ran 26:25.97 for the fourth-fastest time ever but never ran faster than he did that special day in Valencia.
Cheptegei's agent, Jurrie van der Velden told LetsRun that the goal for Valencia will be to just break the world record and not necessarily dip under 26-minutes.
The announcement was made in an awesome video. Major kudos to the NN Running team's social media and digital team for continuing to bring the world high-quality videos and photography that peel back the curtain on the top East African runners in the world.
No word yet on where the meet will be streamed but the NN Running Team will make sure that it is widely available.
PS: I made a joke about Cheptegai stopping his watch at the finish line when he ran the world record in Monaco about how it will only count if it's on Strava. He's actually on Strava and uploaded his race there.
London Marathon Takes A Page From the NBA
London Marathon organizers have a plan in place to create a biosecure bubble ahead of their Oct. 4 showdown featuring Bekele and Eliud Kipchoge. Athletes will be tested four days before heading to London and then will be tested at a hotel that has been rented out exclusively for athletes support staff and marathon organizers. They'll have 40 acres to get ready for the race. (Let's just hope there's no Lou Williams situation where someone sneaks off from the bubble to a local strip club for wings.)
The course was also revealed and will be comprised of 19 laps of a 2.15-kilometer loop an then a bit more to have the finish in front of The Mall by Buckingham Palace. It'll be fast because it's flat and draws some comparisons to what Kipchoge experienced at the INEOS 1:59 challenge.
Even though this map is now publicly available, the public will be closed off from being able to watch in-person to try and keep the biosecure bubble going.
Although there's no mass race for the public, it was reported that more than 40,000 people signed up to participate in the virtual marathon.
Chemo Is Working For Tommy Rivs!
The latest news in Tommy Rivers Puzey's cancer battle appears to be getting better. Kim and Jacob Puzey posted updates earlier in the week sharing that CT scans are showing the chemo is working with a tumor reduction of more than 50%. He is temporarily off the ECMO machine since his oxygen levels are a bit stable. I was blown away when Kim wrote: "The physicians are being contacted by medical journals because his progress is such a rarity; maybe in the never-before category. The uniqueness of the case could be attributable to the nature of the patient, the expertise of the medical team, or the breadth and depth of the supporting community."
Many thanks to everyone who contributed and donated to the CITIUS MAG for the Run with Rivs campaign. We managed to raise $1,154 for Tommy's recovery and his family.
Throughout the nine days of the campaign, I was regularly on the phone with Jacob Puzey as he attempted to try and run 22 miles daily to emulate his brother's commute in Flagstaff when he attended NAU from graduate school. Jacob ended up running more than 200 miles in those nine days. It was emotional. Each day, I tried to get an understanding of what he was feeling on those runs, what he thought about, what memories came back to him and what he learned about his brother in the process. I put together his feelings for a nine-day diary, which you can now read on Sports Illustrated.
"That's something that I learned from Tommy. It's not about me today. It's about others. This helped me think about him and being that encouraging voice. He's been there so much for me during races. It's not about me today. It's about others."
---
A quick break to thank the CITIUS MAG Podcast sponsor: Goodr sunglasses! Many thanks for Goodr for stepping up and sponsoring us amid the pandemic. We know times are pretty hard right now for many places but they took a shot on us to get the word out about the most-affordable performance shades on the planet. They start at just $25 and are great! I've put together a page with some of my personal favorites. If you enjoy this newsletter or the podcast, please consider giving back to the sponsors that help make it happen. Snag a pair! We know legs are feelin' good. Now, make those eyes look Goodr. Visit Goodr.com/citius now.
---
2021's Marathon Mess
The Boston Athletic Association announced that registration for the 2021 Boston Marathon – usually held in September – has been postponed indefinitely and a COVID-19 Medical and Event Operations Advisory Group has been formed to help determine when it will be safe to host road races again. The 2021 edition of the Boston Marathon is currently scheduled for April 19, 2021.
"September is usually a time for the B.A.A. to begin opening registration for April's Boston Marathon and planning for an already established field size," CEO Tom Grilk said in a statement. "We know, however, that we cannot open registration until we have a better understanding of where the virus may be in the spring."
This news comes just a few days after the Japan Times reported that Tokyo Marathon organizers are considering moving next year's race from March 7 to the fall. If that happens then Boston would become the first major marathon on the calendar for 2021. My personal thoughts are that it still might be too soon to stage a mass participation race at that point. I could see Boston also being pushed to the fall like it was for 2020. I'm sorry for being a downer! I also want to qualify and run Boston but definitely have to put public health first!
COVID Cuts Track at William and Mary
Track and field continues to be one of the sports hit hardest at some universities. William and Mary announced they will discontinue the men's indoor and outdoor track and field program after the 2020-2021 school year due to the financial impact of the pandemic. Men's cross country will still be around. The university plans to honor all current athletic scholarships to those affected through their scheduled graduation at William and Mary.
LIVE Track on CITIUS MAG!
Want some track and field action on Labor Day? Of course! We've teamed up with the meet organizers for the Forward Spine & Sport Labor Day Showdown to stream a few races that will take place outside of Boston on Monday. You can watch LIVE on our Instagram page starting at 4:30 p.m Eastern Time. We will have David Melly back behind the mic alongside Katie (Matthews) Newton.
Our coverage will start with the men's 800 that features Olympic champion Matt Centrowitz taking on a few other former Oregon Ducks like Colby Alexander (who just finished second at the USATF road mile championships in Des Moines) and blue jeans mile world record holder Johnny Gregorek. The women's 800 will have a slew of HOKA NJ-NY representation with four sub-2:05 women led by Kenyetta Iveyeble. In the men's 3,000m race, we'll get to see where Eric Jenkins has been as he takes on Travis Mahoney, Graham Crawford and Kyle Merber from NJ-NY. The marquee events will be the women's 5,000 meters. Former American record holder Molly Huddle will face strong competition including Laura Thweatt (5th at February's U.S. Olympic Marathon Trials) and Emily Lipari (the 2020 USATF road mile champion).
Tune in and don't miss out on the fun! Follow us on Instagram for more.
Quick Hits
– NAZ Elite continues to make the most of the summer to try and stage interesting races and run fast. At the HOKA Distance Carnival last week, Kellyn Taylor ran 31:07.60 for 10,000 meters. That would put her as the seventh-fastest American of all-time in the event and ahead of people like Amy Cragg, Lisa Uhl and Jen Rhines. However, for those lists, her performance comes with the caveat that she had a male pacer. Nonetheless, a big performance from Taylor.
Really liked this tweet from her.
This year has been weird. Missed making the Olympic marathon team☑️ broken tibia☑️ world shut down☑️ converted mile PR (4:31)☑️ 5000m PR (15:11)☑️ and last night capped off the season with a 10,000m PR (31:07)☑️ 7th fastest ever by an American! Onward...to fast times & races
– At the same meet, Nick Hauger set a U.S. best for 10-miles on the track and covered the distance in 48:56.83. He finished the hour running 19,440 meters.
– There's a wicked fast half marathon taking place on Saturday morning in Letna Park in Prague which will feature 30+ elite men and women running a 16.5-looped course. The men will try and run faster than 58:30 and the women will take on the 66:11 women's-only world record. It's a big show for the Adidas Adizero Adios Pro shoe that's deemed their competitor in the carbon fiber choky boi arms race.
– According to Flotrack, there's a proposal for the NCAA to hold a winter cross country season that would start in January and then run through March with its own national championship. The writing is on the wall for indoor track. We all know how bad track hack and coughing can be after a hard effort indoors…now in the coronavirus era, that's just scary. Nothing sounds worse than getting a ton of people together under a roof with bad ventilation to physically exert themselves to the point where they're coughing afterward. Again, sorry for putting it that way but it's true!
– It's been three years since David Torrence died. His family has set up the David Torrence Legacy Fund. His family says, "David advocated for helping the youth especially, donating his free time to help, educate and motivate those who expressed interest in the sport, and we hope, with your help to further fulfill his mission." Check out their website for more information.
– Karsten Warholm, who ran 46.87 for the second-fastest 400m hurdles time in history on Aug. 23, will take another stab at the world record at a Sept. 8 meet in Ostrava. The meet is allowing approximately 5,000 spectators in attendance.
Recommended Reads:
– 2019 heptathlon world champion Katerina Johnson-Thompson wrote about her experiences and encounters with racism for British Vogue.
– Remember when Brown nearly cut its men's cross country and track and field program? Now Brown is dealing with a title IX legal battle after cutting five women's programs and three men's teams. My former Sports Illustrated colleague Emily Caron has the story for Sportico.
– Really strong work from my friend Tyler Tynes at The Ringer for breaking down what the role of Black athlete protests has taken on during our current political crisis.
PODCAST PALOOZA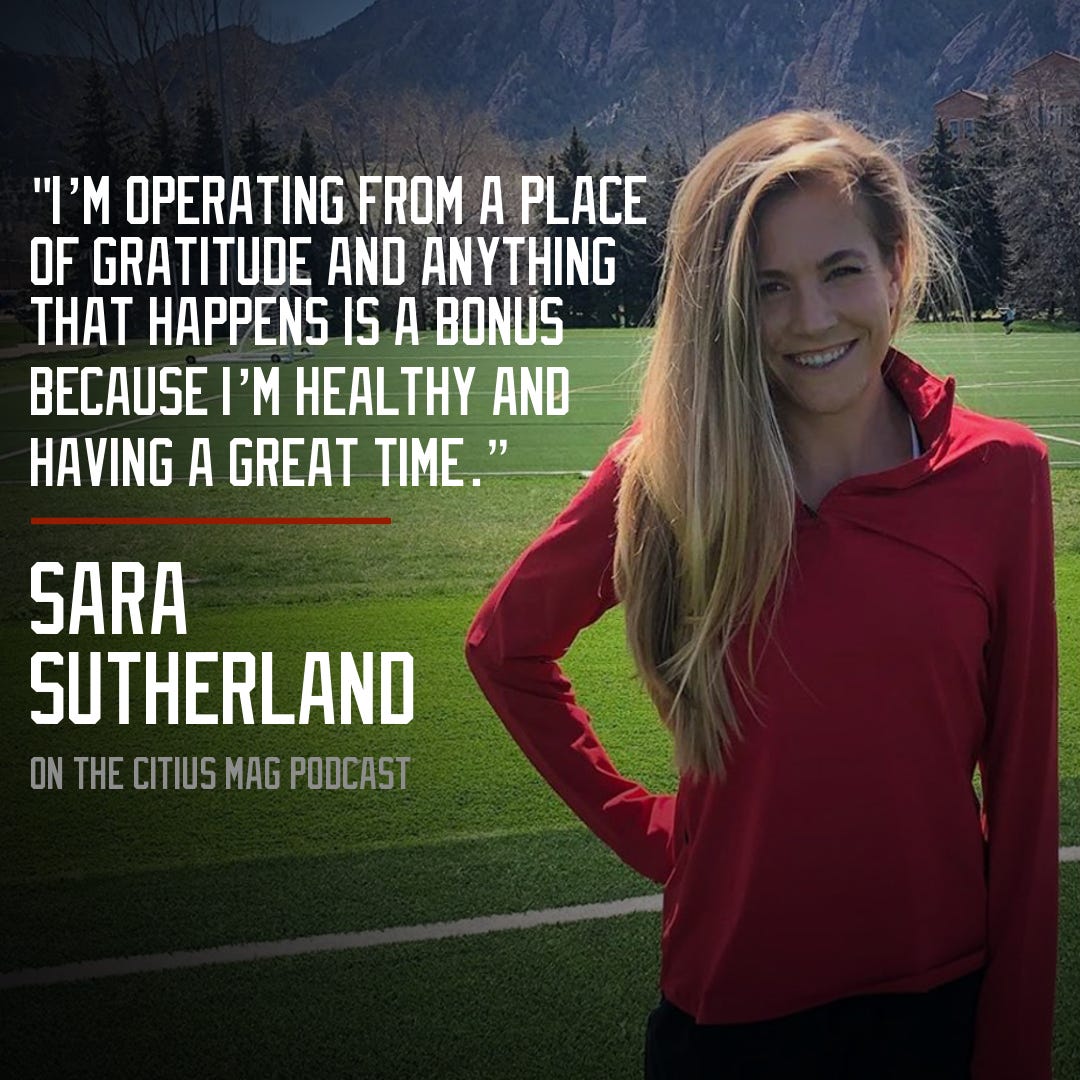 "I remember the day I ran 4:06. I was on the phone with Riley and he was like, 'You did it! You got the Olympic standard!' And I was like, 'Ugh! I just want to go faster!' We're all wired that way. That's how we roll. Right now, women's distance running in the United States in the 1,500 and 5,000 is amazing. There are so many women who have taken these preconceived barriers and said, 'I don't care. I'm going to go way faster.' That's my hope as well. I feel really inspired to see what women have been able to do over the last couple of years. I definitely felt like I was missing out on so much of that. I'm really excited if I can just stay healthy and be up there again."
Sara Sutherland is a professional runner for Saucony. She was a star at the University of Texas and the University of Colorado. She's got personal bests of 4:06 for 1,500 and 15:26 for 5,000m. Just a few weeks ago, she raced at the Music City Distance Carnival and it was her first race in a year and a half. It's been a challenging road back but if there's anyone who has ever had a great attitude when faced with tough obstacles, it's been Sara. We catch up on her work to get back to 100% and the gratitude that comes with doing what you love. This was a blast to record and Sara said I asked a lot of good questions.
More quotes and the full show notes up on CITIUSMAG.com.
You can catch the latest episode of the podcast on iTunes so subscribe. As always, I'd appreciate it a ton if you take a quick second to leave a five-star review. We are also on Stitcher, Google Play and Spotify!
– Dana Giordano and I caught up to wrap up the first season of 'More Than Running.' I turned the table and asked her about what she learned in her 11 episodes of podcasting and what she hopes to accomplish in a second season of interviewing inspiring women in sports.
– On Runners of NYC, Leigh Anne Sharek and I got to know some of the women behind the Bronx Femme Run. The group's mission statement says they aim to create a space where all women run free. They meet on the first Friday of every month and connect women from all across the city and specifically the Bronx. We touch on the conversation that's taken place over the years on runner safety but also how it applies specifically to women and BIPOC women.
---
Once again, this was a super long email but I hope you come away from it feeling a little smarter or informed. Let me know what stood out to you or if you have any cool news or tidbit to share, hit me up at chris@citiusmag.com or simply reply to this email!
If you enjoyed it, pass it along to a friend and encourage them to subscribe.
Have a great weekend!
Chris Chavez