CITIUS MAG Newsletter: Help Save Minnesota Track and Field; Announcers Need Change
As Minnesota's athletic department faces a $75 million deficit, the decision was made to cut the historic men's indoor and outdoor track and field programs.
On Thursday, Minnesota announced plans to cut its men's indoor and outdoor track and field programs in 2021. (Cross country will remain) The coronavirus pandemic continues to ravage athletic programs across the country due to the financial impact of delaying or canceling seasons. This also goes to show how some athletic departments have just mismanaged their budgets and allocated funds in silly places. Steve Magness tweeted that it is "time to get creative, proactive, and selfless before our sport at the college level dies…" and Jesse Squire touched on it in an episode of Track and Field History earlier this year.
This one was stunning because it's a program in the Big Ten conference and a successful one. Hassan Mead and Ben Blankenship were members of the 2016 U.S. Olympic team and hold the school records in the 1,500 meters, 5,000 meters and 10,000 meters. Obsa Ali won the 2018 NCAA Outdoor Championship in the steeplechase. It's really crushing news.
This certainly won't be the last domino to fall. That program has some great history and was still vulnerable to all of this.
Here was Blankenship's response:
Russell Dinkins, who helped save Brown's track and field team from nearly being cut a few months ago, says he is organizing a call with William and Mary and Minnesota alums to try and save their respective programs. If you attended either of those schools, get in touch with him. Russell was a guest on the CITIUS MAG Podcast and explained the importance of keeping those programs alive.
After the news dropped, a friend of mine texted me saying that this news really sucks for Minnesota high school athletes because it's the state school to try and run for. Everywhere else requires out-of-state tuition. If you want to stay close, Wisconsin might be the next-best program but they're really good and just and hard to get a spot on the team.
This Change.org petition has been started to reinstate the program. There is also an Instagram page called – @reinstateumnmenstf
If you want to try and save William and Mary's program, current students, alumni and supporters have put together a petition to try and save their teams. Spread the word. It has been signed by nearly 20,000 people.
Cutting sports does not have to be the answer. The fight continues.
Announcers, Please Stop Commenting On Women's Bodies During Races!
There were some solid results at the Ostrava Golden Spike track meet in the Czech Republic. Faith Kipyegon ran 3:59.05 for 1,500 meters. Sifan Hassan won a tactical 5,000m in 14:37.85 for the seventh-fastest time in the world for 2020. 19-year-old Jacob Kiplimo ran 12:48 for the 5,000 meters. Ryan Crouser threw farther than 22 meters for the 27th time in 2020. Karsten Warholm fell short of the 400 meter hurdles world record again and ended up running 47.62 – which is still head and shoulder above anyone in the world right now.
However...the conversation around the meet was sort of spoiled after I tweeted a short clip from the broadcast where announcer Simon Wilcox takes the first 30 seconds of the women's 1,500 meters to comment on the physical appearance of the pacesetters. You can watch the clip for yourself below…
Like I noted on Twitter, I found it disgusting and totally inappropriate. The snicker right before he says it was the absolute worst part. I was called a snowflake and soft in some of the replies from people online but I stand by my comment wholeheartedly. Outside of that race, he was also just not good where he provided little context and couldn't identify key athletes.
Emily Sisson later shared the clip to her Instagram story and recounted how comments about her body have been made on broadcasts in the past. Allie Ostrander, who spoke out against this after her win at the 2019 NCAA Outdoor Track and Field Championships, wrote: "If the announcers can't think of anything to comment on other than the athletes' bodies and the color they are wearing, they shouldn't be announcing. Tell me something about the race plz."
Announcers have to stop doing this.
Mary Cain had a great response on her Instagram page after the question of "Is it ever appropriate to comment on a women's body composition or appearance, since in other sports, male athletes' appearances can be made fun of and called overweight?" was posed to her. She said: "If it's not a fun-fact coming directly from the athlete, don't talk about it. The very idea that any reporter would feel comfortable making mean-spirited or sexualized comments about any athlete - male or female - is disgraceful and unprofessional."
Let me know your thoughts by simply replying to this email. Any sort of feedback and input is always greatly appreciated.
Caster Semenya's Tokyo Olympic Title Defense Takes A Hit
The Federal Supreme Court of Switzerland dismissed Caster Semenya's appeal against the Court of Arbitration for Sport's ruling that upheld the testosterone regulations for female runners with differences of sex development. Because of this ruling, Semenya will only be able to defend her 800 meter Olympic title in Tokyo if she agrees to lower her testosterone levels by taking medication or undergoing surgery. She remains firm in her decision to not do that. The testosterone regulations apply to events from the 400 meters through the 1,500 meters.
Semenya released the following statement shortly after the ruling:
"I am very disappointed by this ruling, but refuse to let World Athletics drug me or stop me from being who I am. Excluding female athletes or endangering our health solely because of our natural abilities puts World Athletics on the wrong side of history. I will continue to fight for the human rights of female athletes, both on the track & off the track, until we can all run free the way we were born. I know what is right & will do all I can to protect basic human rights, for young girls everywhere."
She also posted this on Instagram:
I will continue to fight for the human rights of female athletes, both on and off the track, until we can all run free the way we were born.
#youcantstopus
Women's-Only Half Marathon World Record Falls
While many of us may have been sleeping into Saturday morning, Kenya's Peres Jepchirchir broke the women's-only half marathon world record in Prague with her 1:05:34 victory. The previous record was 1:06:11 by Netsanet Gueta. The race was practically a showcase for Adidas' competitor to the Nike Vaporfly Alphafly shoe.
One thing that particularly stood out to me about some of the results from the U.S. Olympic Marathon Trials was seeing that many of the women wearing the green and black AlphaFlys didn't fare as well as some of the women in the VaporFly shoes or other models. The Olympic team was composed of three women who didn't wear those Chonky Bois. (Aliphine Tuliamuk wore Hoka One One's Rocket X. Molly Seidel wore Saucony's Endorphin Pro. Sally Kipyego wore the Nike Zoom Vaporfly Next%) On the men's side, two of the three Olympic qualifiers wore the Chonky Bois. So I posed the question to a friend whether there might be something to these new Adidas shoes that could be better for a women's fit and it seemed like a dumb question to me. However, they told me it wasn't and you kind of have to just realize that Jepchirchir is a super talented athlete but also that the EnergyRods in the Adidas shoe and their shape certainly appeal to more foot shapes.
It was just something to keep in the back of your mind when possibly considering your next racing shoe that it's not a blanket solution to pick a shoe that will guarantee you're faster. Find what works best for you.
Quick Hits
– Congratulations to Jordan Marie Brings Three White Horses Daniel and her team that ran 360 miles from Bears Ears National Monument in Utah to Salt Lake City for the Running as Medicine, Indigenous Youth Prayer Run. The purpose of the run was to raise awareness of the impact of COVID-19 on the Native American community as well as the many cases of missing and murdered Indigenous women, girls and two-spirited people.
– In a New York Times Op-Ed video, Gwen Berry (who was a guest on the CITIUS MAG Podcast in June) shared the story of her protest at the Pan-American Games and continued to apply pressure for the IOC to change Rule 50. The rule says: "No kind of demonstration or political, religious or racial propaganda is permitted in any Olympic sites, venues or other areas." The rule came under fire as protests against racial injustice picked up worldwide this summer. In my podcast, Gwen told me that conversations are already happening among United States track athletes about the best way they can demonstrate next summer.
– BYU All-Americans Whittni Orton and Anna Camp broke the women's world record for the fastest mile while dribbling a basketball. The previous record was 5:08:57 and now we're sub-five! Whittni ran 4:52.71 but if you account for altitude and give her the conversion, she ran 4:58.56. Anna also got under with her 5:04.28.
– Congratulations to coach Ben Rosario, HOKA One One and the Northern Arizona Elite crew on re-signing a new four-year partnership. As has been expressed many times on podcasts and articles, there is no team that has done a better job of being super interactive, transparent and engaging with the running community than them.
Podcast Palooza!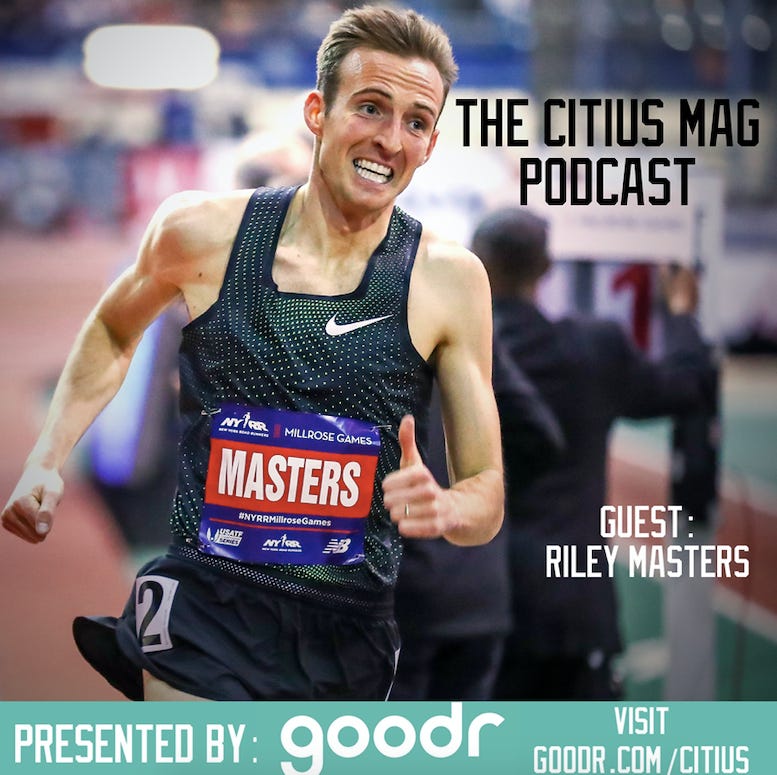 "When you look at running and why we're doing this, the ultimate pinnacle goal is to be an elite medalist but really to be an Olympian and have that title. For Sara (my wife) and I, when we think about why we do this, it's to try and qualify for the Olympics or give it our absolute best shot. When you talk to someone who is not closely tied to the running world, that's what they're looking for. When they describe you to your friends, they're thinking, 'This guy is training for the Olympics' or 'He's trying to make the Olympics' and it's so cool to them but if you take the Olympics out of it, it loses the allure of what we're doing. It's very unique."
Consider this Part II to last week's conversation with Sara Sutherland since we now get to interview her husband, Riley Masters. For those who may not be familiar with him, Riley was a standout runner at Maine before transferring to Oklahoma. He has personal bests of 3:36.49 for the 1,500 meters and 13:16.97 for the 5,000 meters. He serves as an assistant coach at Colorado where he works closely with his own coaches Mark Wetmore and Heather Burroughs. Riley hasn't raced in 2020 because he's making his way back from getting surgery to correct Haglund's deformity, which is a bone growth on the heel bone.
I've known Riley for years and as he's now in his 7th year of running professionally, we were both together in Europe in 2013 for our rookie seasons at the top end of the sport. We catch up on what he's learned in that span of time, why this year is the worst one that he's faced but keeps him motivated to explore what's possible in 2021.
You can catch the latest episode of the podcast on iTunes so subscribe and leave a five-star review. We are also on Stitcher, Google Play and Spotify!
– Leigh Anne Sharek and I interviewed Marie-Ange Brumelot on the Runners of NYC Podcast. She was set to represent France in her first-ever world championship but is 99% certain that she is not comfortable making the trip amid the global pandemic and may have to skip the race. However, she still managed to qualify with an impressive 1:14:12 half marathon back in January in Houston. She has also run 2:36.23 for the full marathon last October in Chicago. Her progression is super impressive and so hear how she was able to make that happen!
---
I think that does it for this edition of the newsletter. If you enjoyed it, found something interesting, learned something new or have something interesting to share, hit me up! I love hearing back from all of you. This has been a lot of fun to put together over the past couple weeks and another way of getting to interact with readers, listeners and supporters of CITIUS MAG.
you have to admit, this is a great photo
Someone asked how they can support us? You can pledge any dollar amount that you feel comfortable with on our Patreon or pick up some CITIUS MAG swag (like that crewneck in the photo above) in the merch store online.
Until next week…thanks for reading!
Chris Chavez